The event begins at 5:30 pm and ends at 9:00 pm. 5:30 p.m. to 6:30 p.m. will consist of a resource fair and the formal program will begin at 7 p.m. and end at 9 p.m. TDOR will be hosted by Trans-E-Motion, Fresno State's Cross Cultural and Gender Center and Fresno State's Women's Studies Department at Fresno State (5241 N Maple Ave, Fresno, CA 93740) in the North Gym, rm. 118. The parking code for the event is: 629149. Parking tickets can be purchased at parking ticket dispense meters by entering the code.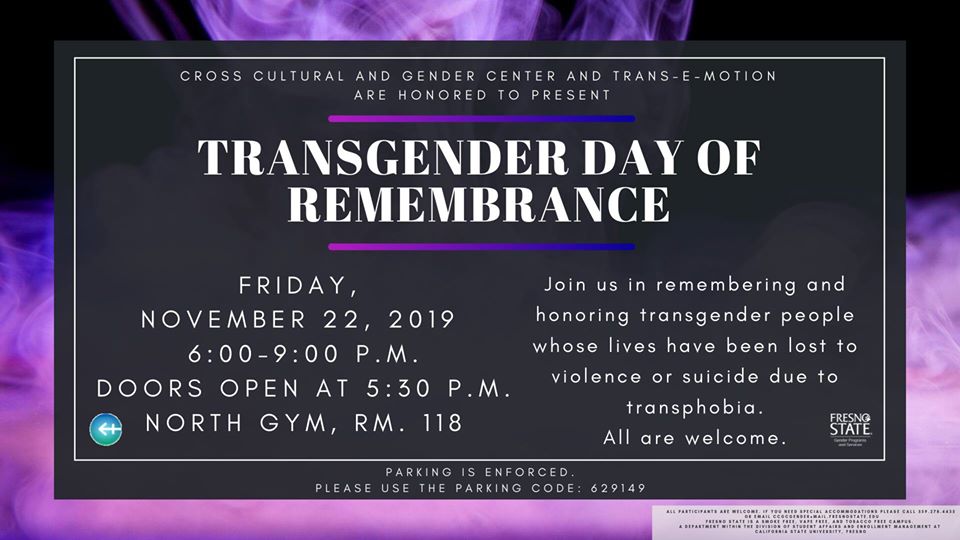 The annual Transgender Day of Remembrance is an event to honor the lives of transgender individuals who died from murder or suicide. It is also an opportunity to raise awareness about transgender existence in our own community. This event is intended to provide a safe space for transgender people and their allies to embrace their identities while memorializing those whose lives were cut short.
The event will feature singing, poetry, and an art display. Inspirational speakers will address the topic of transgender experiences, gender diversity, inclusion, and the importance of raising awareness about violence and transphobia. Information on supportive crisis services, local resources, and organizations will be present at our resource fair. Finally, a reading of the names will be held to honor transgender individuals who have died by violent crimes or suicide this past year (November 2018-November 2019).