"No Child Sleeps on the Floor in Our Town" is the motto for the project called Sleep in Heavenly Peace.  It's Fresno but it's also a working project in many major cities across the U.S. As you know, Wesley contributed sheet sets, pillows, blankets and handmade fancy pillowcases sewn by the SewNSews.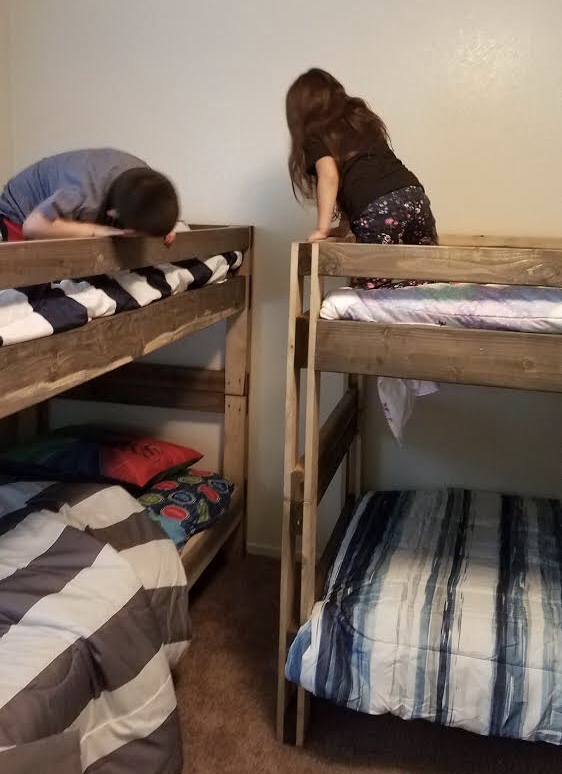 I got the privilege of accompanying the team last Saturday to make two deliveries. One to a home where two kids were sleeping on the living room couch and the other where four children were sleeping on the floor in their bedroom. It rained absolutely cats and dogs but our team of about 8 loaded the van at Lithia Subaru with the headboards, footboards, wooden frames and slats, and all the beddings for the 6 beds.
We carried all the things into the first apartment and met the family who were quiet but oh so appreciative.  Four volunteers stayed to assemble the beds and the rest of us went to the next home. There we assembled two sets of bunk beds. Mom turned the heat up for us and in the small bedroom we worked to get one bed finished and then another and then the beds for the tops. We were sweating and taking jackets off but working quickly and in rhythm to get the job done. The little boy, about 4, and his sister were peaking in on the progress every few minutes and charged in to help us finally put the sheets on, the blankets and the pillows. But they jumped from bed to bed in their excitement and then posed for our cameras on the top bunks with huge smiles and thank yous.
One mom had to have beds or she would lose custody of her two and the other had been homeless until they got this apartment. Families who have kids sleeping on the floors can apply to Sleep in Heavenly Peace for beds and this 2019 we have 450 requests for beds!! That's just Fresno. Think of the nationwide need.
June 15th will be a nation-wide Build Day at Lithia Subaru on Blackstone with help from Lowes and many, many volunteer hands to build the beds. It's on my calendar – what do you think? Wanna come?
-Barb Bray